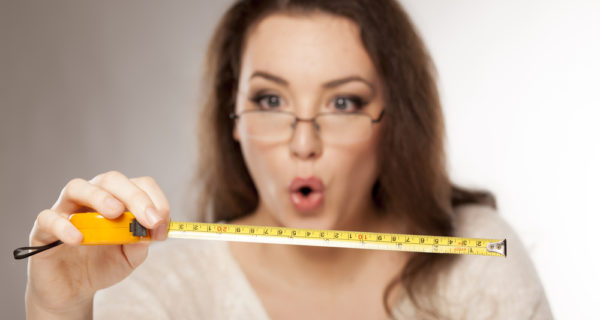 Men are often unhappy about the size of their penis and look to add a few inches with a little help from a penis extender or other male enhancement devices. Plenty of factors are at play here: these men are often unsatisfied with their sex lives, they feel like their manhood isn't enough to provide pleasure for their partners, or they've heard their friends brag about the size of their penises and are peer-pressured into thinking they are inferior to them.
They also consume a lot of porn and merely looking at the size of a performer's penis is enough to get them depressed and provoke them into thinking about how they can make their penis as large and thick. In situations like these, men rarely stop to think that porn producers use various visual tricks to make the actors' dongs look larger than they actually are. Moreover, many male performers are doing porn because they're extremely well-endowed and they aren't someone you'd want to measure up to.
Reality Check: How Long a Normal Penis Is
These are just some of most common reasons why men opt to use a penis extender to help them deal with their size issues, regardless of where these issues come from. But not everything is so black and white – the size of a regular man's penis is nowhere near what the pornstars are sporting or what your friends are bragging about. To find out what's really the standard, let's take a look at two studies.
The first study was conducted in 1996 and the results were published in the esteemed Journal of Urology. According to this research, the average penis is about five inches long and about four and a half inches thick when erected. Another study was conducted in 2002 and involved taking the measurements from more than three thousand men. The results state that the average penis size is about 3.5 inches when flaccid, 4.5 inches when gently stretched, and about 5.9 inches when erect.
This is just the average size, but anything above 1.6 inches in flaccid state and 3 inches during the erection constitutes a normal-sized penis. If your penis measures below these numbers, then you should consult a professional to help you find a solution to numerous performance problems that may arise from this impairment. However, if your penis is within the normal range, chances are you're suffering from a condition known as "penile dysmorphophobia" or penile dysmorphic disorder.
Penile dysmorphophobia is a state in which men with perfectly functional penises needlessly obsess over their size and the perceived (in many cases imagined) lack of quality in their sex lives. They will often resort to different methods of treatment to help them solve the issue, including pills, creams, use of a penis extender, or in more extreme cases – undergoing a penis enlargement surgery. If left untreated, penile dysmorphophobia will take a massive toll on both your personal and professional life.
Can a Penis Traction Device Help?
Depending on the seriousness of your problem, most experts will tell you that a penis extender can be put to good use here. The important thing is to use it carefully and to gradually increase the traction weight. Though the price is frequently a decisive factor in our purchasing decisions, you shouldn't regret spending more money when it comes to your health. Always choose a product from a reputable brand-name manufacturer and make sure it comes with a detailed set of instructions.
There have been numerous studies that have proven how lasting the effects of using a penis extender can be. This is one of the most natural ways to increase the length of your manhood and research has shown that with responsible use you can expect your penis to grow about an inch in flaccid state and half an inch when erected. To increase the size of your penis even more, there are plenty other avenues to go. But if you're average-sized and able to function well in bed, you might be obsessing over nothing.